Home Theater and Audio Video Accessories
Featuring
olSONICS Dual Banana Plugs with 1" Spacing
olSONICS dual banana plugs fit the speaker terminals
on many modern Home Theater Receivers and Amplifiers:
Marantz, Denon, Pioneer, Audio Source, AVR, HK, Onkyo, Yamaha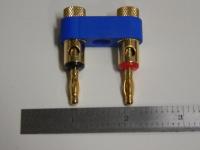 olSONICS dual banana plugs fit AV (Audio Video) equipment and Home Theater receivers and amplifiers that have a spacing of one inch (1") between their red(+) and black(-) speaker terminals. Legacy dual banana plugs with 3/4 inch (0.75") spacing have been deprecated due to European safety concerns and will not fit these receivers.
Several manufactures of AV and Home Theater equipment thus use the 1 inch spacing on some of their models. Among them are Marantz, Denon, Pioneer, HK, Onkyo, Audio Source, AVR, and Yamaha.
If your AV or Home Theater equipment uses banana jacks that are not at the 3/4 inch spacing, but are at the 1 inch spacing then the olSONICS dual banana plugs are the only ones that will fit. Just verify that the spacing between your red(+) and black(-) banana jack terminals for each output on your receiver are one inch (1") apart.
Advantages
Ease of connecting speaker cables to equipment in tight spaces.
Eliminates short circuits caused by strain and twisting on single banana plugs.
Keeps cables neat and orderly.
Can not be plugged into European power outlets.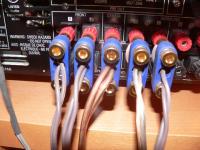 Features
Plug spacing is one inch (1") for modern AV Home Theater Receivers and Amplifiers.
Fits many models from Marantz, Denon, Pioneer, Audio Source, AVR, HK, Onkyo, Yamaha
Custom molded plastic housing has 3/8 inch strain relief hole.
Tactile indicator on the negative terminal side of the housing.
Works with up to 8 and 10 gauge wire.
Ten original colors to choose from.
New! Four pastel colors to choose from.
olSONICS dual banana plugs are based on Dayton BACT-GRB very high quality gold banana plug sets featuring a knurled barrel and a compression nut with a floating "slug". The floating "slug" allows tight wire compression without the twisting effect on the wire strands that other compression connectors have. Side-entry accepts up to 8 gauge wire while the rear-entry accepts up to 10 gauge wire. Also accepts rear-entry banana plugs for stacking.
---
---
History:
I couldn't find dual banana plugs that would fit the speaker terminals on my Denon AVR 5805. The terminal spacing is 1 inch instead of the electronics test equipment standard of 3/4 inch. Apparently, this change from 3/4" to 1" spacing was a result of regulations in Europe having to do with their power outlets being at the same approximate spacing of 3/4".
The big name connector manufacturers were not interested in providing a dual banana plug that would fit these modern receivers. So I had a mold made to make what I needed plus some extras.
On some equipment the manufacturers have even stopped up the holes so you can't put any banana plugs into them. However, those stoppers are usually easily removed. See this video someone did showing how to remove them.

---
User Comments:
John S. from MI... The plugs arrived today. They are excellent! I am well pleased with them... They are high quality -- and nicely priced.
Tim K. from OH... Got them yesterday...hooked'em up today...very nice Tom...work great...Thanks Tim
Ron G. from IA... Perfect fit. Fabulous product. Thanks so much. I am recommending these to friends... Thanks, Ron
Mitchell P. from TX... I just received the banana plugs and they are gorgeous.
Steve D. from TX... The parts are great.
Erik K. from FL... The plugs came in and they work great.
Jim M. from CO... The plugs are top quality, install with no problems, and make the installation look very neat. I recommend them.
---
Wiring Instructions:
Side entry cable installation: Loosen rear compression screw in counter clockwise fashion to expose side opening on banana plug. Remove approximately 5/16" of insulation from speaker cable. Insert exposed wire (up to 8 AWG) into side opening. Tighten rear compression screw to secure wire. For cable strain relief run wire cable through center hole in plastic housing.
Rear entry cable installation: Remove rear compression screw and compression slug from banana plug. Remove approximately 1/4" of insulation from speaker cable. Insert speaker cable into rear compression screw. Fan wire (up to 10 AWG) and fold conductors over the rear compression screw. Ensure that conductors do not interfere with rear compression screw threads. Insert compression slug first into the banana plug. Install rear compression screw securing cable to banana plug.